It's official. Jaywalker is an outdoorsy person now. He just went on two out of town trips within two weeks!

It had only been a week since I went to zambales when a friend invited me again to a trip to taal. The word "trekking" was mentioned but for some reason, images of steep, death-inducing inclines didn't cross my mind. I wasn't quite dressed for the occasion. Wearing slippers and shorts when climbing a volcano isn't very ideal, apparently.
The trek started off easy enough and got progressively more challenging as we went on. Men on Horses followed behind us, hoping to extract money and, maybe, sexual gratification from stragglers. I didn't intend to be one of their victims. So I tried to trek on, all the way to the top, driven by nothing but Manly fervor.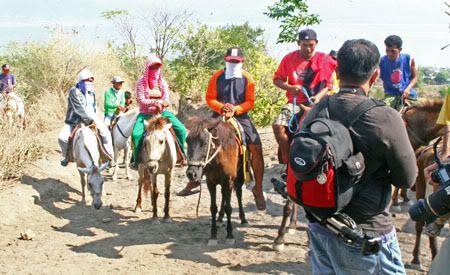 Do you risk life and limb by trekking all the way to the top or do you ride a horse and sacrifice your manly dignity. Not a very tough choice

Before I left, my father said that I was risking my life for a hobby. I disagreed of course. I didn't think that there was risk involved at all. While I was on the steepest part of the climb, all I could think of was that his words had never rung more true.
Bloody but unbowed. I may have tripped a few times but my manly dignity remained intact. Pay no attention to the hat
My memory of events gets a bit muddy near the top. I was half delirious. Childhood dreams of riding on horseback flashed before me. I saw chuck Norris wearing a straw hat, riding on horseback…

After about 45mins, our reenactment of the bataan deathmarch came to a pause. We finally reached the peak. I bumped into a deranged man spouting unsubstantiated claims. He was ignored, as was appropriate.[/inside joke] I didn't actually realize that we were climbing the actual volcano until I was at the top and saw the crater. Throughout the entire treck, i had very little knowledge of what we were doing. Someone mentioned that we'd be swimming, hence i brought shorts and slippers. It was either an innocent mistake or someone's idea of a joke.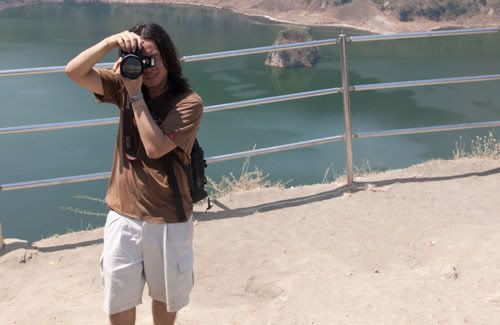 the Taal crater
We didn't stay at the peak for long. We didn't even get to shoot the model who was so exhausted that she just slept. After a few minutes we had to go back down the same treacherous path again

The sand felt like sandpaper –hot sandpaper. The sun was scorching. The treck was more than an hour long. The trek was so taxing and so perilous that I felt about 30% manlier when we finally got down. My farmer's tan also looks about 20% more awesome. I display it proudly. It's physical proof that I'm more outdoorsy now.
My Farmer's tan, i disp
lay it proudly whenever the opportunity arises